Presentation Skills Training In Toronto: Make Lasting Impressions, Sell Your Ideas Quickly, And Deliver Powerful Presentations.
Successfully prepare. Learn behind-the-scenes preparation techniques to transform your nervous energy into productive enthusiasm.Presentation Skills Training in Toronto teaches you to succeed in public speaking to an audience of any size. With an emphasis on helping you discover practical tools (so you can rely on your new skills in-the-moment) you'll learn how to: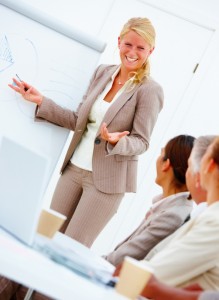 Refine your voice.

Alter voice

tone

,

pace

and

pitch

to build sincerity and credibility. Speak with emphasis, and increase your audience's retention of information.

Speak with your body.

Free yourself from distracting body language and present yourself with the confidence and poise that fosters your audience's trust.

Improve presentation design and content structure.

Increase clarity,

aid learning and engage your audience with simple design templates. Create a stronger beginning, middle, and end.

Excel in Q & A.

Eliminate after-speech stress by listening attentively, planning responses beforehand, staying on topic and keeping track of time.
Learn in a Supportive Environment: At Your Office—Or Progressive Training's Learning Centre (Toronto, Ontario) 
To learn new skills and change your behaviour, you need a comfortable environment. That's why

all one-day Progressive Training workshops

offer skill reinforcement in a private setting.

 

Inquire today about course dates and locations that suit you by calling

1-905-829-1111

 or email.

 

 
Presentation Skills Training in Toronto pricing is $425 per participant.

Register for an upcoming publicworkshop or call 1-905-829-1111 to learn future dates for public training – or private training (in your southern Ontario office!)[
For all other cities in North America, please contact us directly.