Essential Communication Skills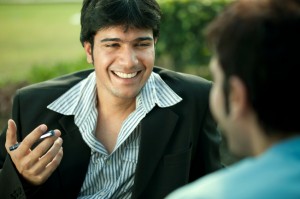 Have you ever wondered why it seems so difficult to talk with some people and so easy to talk with others?
Can you recall an occasion where you met someone for the first time and immediately liked that person?  Something about the individual made you feel comfortable.
A major goal of this training is to help you understand the impact your communication skills have on other people, and how improving these skills can make it easier for you to get along in the workplace.
Course Outline
The ten commandments of positive relationships
Self-awareness
What is a skilled communicator?
Communication barriers
Asking good questions
Active listening skills
Remembering names
Body language
The Johari Window (what information is shared)
Frame of reference
Five approaches to relationships
Assertiveness
Self-attitude
The assertive formula
Expressing your no
 Pricing is $425 a person.
On-site training is easily arranged at your location.
Pricing is:
6 to 9 participants $425 each
10 to 14 participants $395 each
15 or more participants $375 each
For additional information or to discuss your training needs please contact us at 905-829-1111 ext. 1 or 800-661-7197 ext. 1.
Course Registration
To help manage information and communication more effectively consider participating in one of our Working Sm@rt courses to improve personal organization.
Working Sm@rt with Google Apps
For all other cities in North America, please contact us directly.