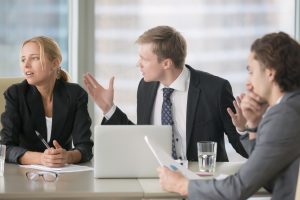 Conflict Resolution: Dealing with Difficult People
Creating a great workplace environment should be part of everyone's responsibility.
Conflict Resolution and Dealing with Difficult People, a one day course may be the answer you are looking for.
Participants will learn:
What conflict is and how it escalates
The types of conflict
Both the positives and negatives around conflict
Recognize how your own attitudes and actions impact others
The five most common conflict resolution styles and when to use them
Find new and effective techniques for dealing with difficult people
Learn some techniques for managing and dealing with anger
Develop coping strategies for dealing with difficult people and difficult situations
What Topics are Covered?
Defining conflict and types of conflict
Conflict resolution style questionnaire
The role of communication in conflict resolution (including information on active listening, paraphrasing, asking questions
and body language
Benefits of confrontation
Preventing problems
Getting focused
Dealing with anger (yours and others)
The three step conflict resolution model
Changing yourself
Why don't people do what they are suppose to?
Price is $425 a person.
On-site pricing is:
6 to 9 participants $425 per participant
10 to 14 participants $395 per participant
15 or more $375 per participant
For additional information or to discuss your training needs call us at 905-829-1111 ext. 1 or 800-661-7197 ext.1
---
To improve your communication skills consider our Essential Communication Skills course.
For all other cities in North America, please contact us directly.